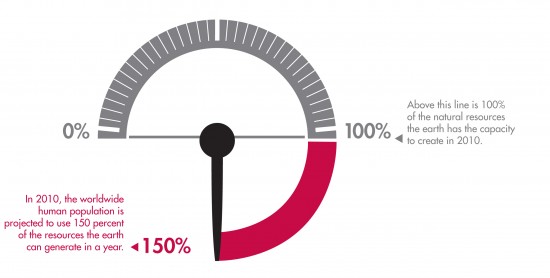 Today I received this overdraft notice from the Global Footprint Network. The notice starts as follows:
"On August 21, we exceed nature's budget
It has taken humanity less than nine months to exhaust its ecological budget for the year, according to Global Footprint Network calculations.
Today, humanity reaches Earth Overshoot Day: the day of the year in which human demand on the biosphere exceeds what it can regenerate. As of today, humanity has demanded all the ecological services – from filtering CO2 to producing the raw materials for food – that nature can regenerate this year.  For the rest of the year, we will meet our ecological demand by depleting resource stocks and accumulating greenhouse gases in the atmosphere.
"If you spent your entire annual income in nine months, you would probably be extremely concerned," said Global Footprint Network President Mathis Wackernagel. "The situation is no less dire when it comes to our ecological budget. Climate change, biodiversity loss, deforestation, water and food shortages are all clear signs: We can no longer finance our consumption on credit. Nature is foreclosing."
I would like to invite all of you who read this entry to sit still for a few moments and allow this message to sink in. How does it feel your body – in that most precious part of nature that is your most intimate home – to know that the greater body of the civilisation, of which you are an utterly interdependent part, is careening over a precipice and taking you (and an awful lot else besides) with it?
How shall we witness this unsung event without also letting in the folly of our own denial that we, as part of the problem, are uniquely empowered to be part of the solution?
How do you begin to pay off such a huge debt? The answer is: cent by cent. Step by step – shaving away at our use of unnecessary resources, moment by moment asking ourselves questions like "Do I really need this? Do I really need to consume this resource? Can I use it twice? Can I turn this waste into a resource elsewhere in my system?" Of course, as is the case with all habits, before we can do this we must wake up sufficiently to even think of asking such questions.
Some really simple suggestions of things to do that can make a difference:
Eat an egg, instead of a chicken
Recycle your grey water through your toilets
Cycle, walk or take the bus instead of the car
Leave the bees to enjoy the flowers in your lawn rather than running the lawnmower (bugger what the neighbours think!)
Take the stairs rather than the lift
Grow some of your own vegetables
Buy organic
Break the supermarket habit, and buy only what your local shops have to offer
Sign up for the 10:10 campaign
Look for a transition initiative near you
So my question to you now is: What will be your first next step in waking up to your power to make a difference to our footprint on this planet? Please feel free to share your commitments in the comments box below.